iGDP Principal Hu Min speaks at IEA's 8th Global Energy Efficiency Conference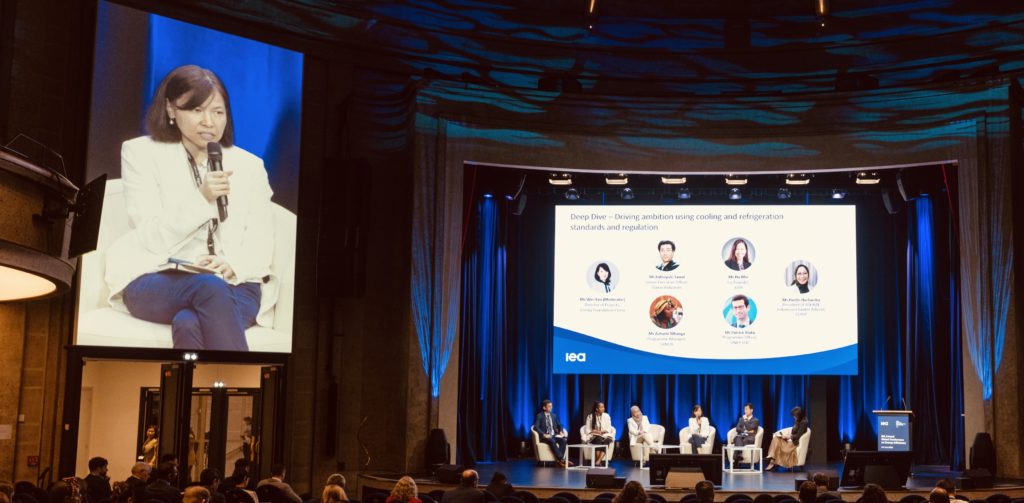 June 6, 2023
From June 6 to 8, 2023, the 8th Global Energy Efficiency Conference, hosted by the International Energy Agency (IEA), was held in Paris, France. The Institute for Global Decarbonization Progress (iGDP) was invited to speak at the conference on China's green cooling practices and to organize seminars on international energy efficiency cooperation.
Saving energy and improving energy efficiency are widely considered to be critical first steps in promoting energy security and mitigating climate change. Improving energy efficiency, often called the "first energy",  can also help to lower the GHG peak and avoid the risk of an overshoot pathway.
In the past two years, energy market fluctuations caused by the Russia-Ukraine conflict, coupled with the extreme heat, cold and drought brought by extreme weather, have roiled the global energy system. Against this backdrop, the Global Energy Efficiency Conference focused on raising ambition and strengthening cooperation, holding discussions on topics such as green cooling and energy efficiency standards improvement, smart grids to tap energy-saving potential, energy efficiency investment and financing, and reconstruction of conflict and post-earthquake areas. Forty-five countries sent ministerial or senior government officials to the event to discuss the goal of doubling global energy efficiency progress by 2030, promote sustainable economic growth, and help put the world on a safe and affordable path to net zero emissions.
In his opening remarks, IEA Director Dr. Fatih Birol said that IEA research shows that global energy efficiency needs to double and renewable energy installations triple by 2030 in order to achieve the goal of keeping global warming to 1.5 degrees this century.
In her subsequent remarks, Ms. Agnès Pannier-Runacher, French Minister of Energy Transition, pointed out that a series of actions have been taken by EU countries in 2022 to deal with the energy crisis brought about by the Russia-Ukraine conflict. Thanks largely to government initiatives to promote public awareness of energy efficiency and behavior change, the EU's gas demand fell by 12 percent for the year, contributing to ensuring energy security in a crisis situation.
Zhao Chenxin, Deputy Director of China's National Development and Reform Commission attended the conference and delivered a speech reiterating China's strategy of prioritizing energy efficiency since the 1980s and presenting China's experience in legislation, standards, and key projects. The more than 300 national standards for energy efficiency that China has developed have contributed greatly to promoting a comprehensive green transformation of economic and social development and will help China achieve carbon peaking and carbon neutrality; their speed and scale were applauded by the participants. During the meeting, Vice Director Zhao Chenxin met with IEA Director Fatih Birol and had an in-depth exchange of views on strengthening further cooperation on energy efficiency. The two sides renewed the Memorandum of Understanding between the National Development and Reform Commission of the People's Republic of China and the International Energy Agency on Strengthening Cooperation on Energy Efficiency.
Experts from the Energy Foundation, China National Institute of Standardization, China Quality Certification Center, State Grid Energy Research Institute, Energy Conservation Service Industry Committee of China Energy Conservation Association, Chinese Academy of Sciences and other organizations attended the meeting and participated in a series of activities.
On June 6, Ms. Hu Min, co-founder of the Institute for Global Decarbonization Progress (iGDP) and former consultant to the Kigali Refrigeration Energy Efficiency Project in China, attended the panel discussion "Deep Dive – Driving Ambition Using Cooling and Refrigeration Standards and Regulation", organized by the Energy Foundation and IEA. The panel was moderated by Wei Han, Program Director at Energy Foundation China.
Ms. Hu Min emphasized the importance of promoting green refrigeration. China's success in improving air-conditioning energy efficiency standards and accelerating refrigerant replacement is a green development story worth introducing to the world.
Since July 1, 2020, when China officially implemented its new air conditioner energy efficiency standards, the market share of high-efficiency air conditioner products in China has increased significantly, with the market share of energy-efficient air conditioners above Level 3 exceeding 96% in Q4 2021 (including 56% for Level 1 energy-efficient air conditioners), while air conditioner products with energy efficiency levels below Level 5 of the new standards have basically been eliminated from the market. Hu Min believes that China's policy progress is not only conducive to energy saving and industrial upgrading in China, but can also serve as a model for other countries to promote a global green refrigeration transition.
In his concluding remarks, Zou Ji, CEO and President of Energy Foundation China, proposed that the world needs to work closely together to strengthen standards coordination and capacity exchanges to promote the green refrigeration transition.
On June 8, iGDP, IEA and LBNL held a roundtable forum on "Improving Energy Efficiency Ambitions through Global Collaboration: Scale and Speed". At the roundtable, more than 20 energy transition experts from nine countries discussed topics such as driving demand-side management best practices, digitizing energy efficiency potential, and scaling up zero-carbon buildings. The session was moderated by Dr. Nan Zhou from Lawrence Berkeley National Laboratory and attended by iGDP analyst Xiao Ning.  
The experts shared information on the dynamics of the field and ongoing projects, and proposed a series of international cooperation solutions from policy, financial and business perspectives. As energy efficiency projects are generally small in scale, individual projects have low returns and long payback times, and vary greatly from region to region. It is difficult for these projects to attract the attention of policy makers and obtain financial support, which restricts their scale. Some experts suggested that global cooperation can be used to drive public behavior change and to jointly build a business model for scaling up energy efficiency projects. It is also possible to enhance investor confidence and obtain policy support by better quantifying returns. Some experts also suggested that demonstration projects could draw participation from multiple stakeholders. IEA participants also indicated that they could act as conveners of relevant projects.
Experts at the conference generally agreed that exchanges with China in the field of energy efficiency should be strengthened in the post-pandemic era, and hoped that experience-sharing could be increased through similar activities in the future. At the meeting, the three organizers also held preliminary discussions on follow-up cooperation matters, aiming to jointly promote international exchanges and cooperation in energy efficiency.