iGDP develops and promotes policy solutions that are driving forward China's low-carbon economic growth
iGDP is a non-profit policy and strategy consultancy focusing on green and low-carbon development. iGDP works to strengthen China's low-carbon policy design and implementation through interdisciplinary, systematic and empirical policy research. We work with a wide variety of partners and stakeholders to promote a zero-emissions future.
Sign up here to receive iGDP's newsletters and publications
One might wonder about the real motivation behind President Xi Jinping's exciting, and to some, surprising pledge before the United Nations General Assembly on Sept 22 to reach carbon neutrality by 2060. It's likely that there is some degree of geopolitical calculation behind the pledge, but the main driver is the leadership's vision of creating a "beautiful China" by promoting "ecological civilization" and a high-quality economy driven by technological innovation. Given this high-level and long-term political goal of China, we can expect to see the development of a slew of short-term follow-up policies.
(Read the full op-ed here)
IGDP featured in Chinadialogue
A recent news report in Chinadialogue on a possible EU-China climate action partnership quotes iGDP:  
"Hu Min, executive director of the Innovative Green Development Program (iGDP) in Beijing, said it's misleading to focus solely on China's international commitments. Domestic sectoral policies are a better indicator of where the country is heading, she said. One key indicator will be China's 14th Five Year Plan, which is now in development. Hu expects it to be a much greener document than its predecessor, which could put China on a path to significantly overperforming its current NDC.
Hu also sees potential for EU–China cooperation on a green recovery. She pointed to a March appearance by Xi, which he used to highlight his concept of "ecological civilization". "It's a very strong political signal that green development is still the core even though we need to tackle economic recovery," Hu said. She added that China's leaders seem to have learned the lessons of 2008, when the country responded to the economic crisis with a stimulus programme that ended up locking in significant fossil fuel emissions. "It's clear that policymakers are trying to make it a smarter, greener more sustainable recovery through the concept of new infrastructure and new urbanisation," Hu said."
iGDP assists cities in identifying locally-suitable pathways to achieve the win-win of economic transition, curbing air pollution, and peak GHGs emissions. iGDP provides China's cities with the tools for cleaner climate, economic prosperity, and sustainable urbanization.
iGDP helps China's policymakers better understand the intersection between market mechanisms and low-carbon policy. Projects promote ambitious low-carbon goals and build an enabling environment for a race-to-the-top movement of green growth.
iGDP projects help China's policymakers and other stakeholders better understand long-term emissions scenarios and build confidence through promoting local champions in implementing climate goals.
iGDP is the secretariat of Green Think Tank Development Partnership, a network of provincial and city-level green development research institutions and experts.     
iGDP maintains two analytical tools to help researchers and policymakers better understand China's progress in low-carbon development.
China LOGIC is the "Low-carbon & Green Index for Cities". It provides a system to track progress, a database to evaluate performance, and an analytical tool to help cities identify improved solutions for low carbon and clean energy development, and early carbon peaking. LOGIC contains data from 115 cities, across 23 low-carbon and green indicators, and characterizing cities across ten economic and demographic dimensions. Data was collected and compared across two annual sets (2010 and 2015).
Policy Mapping is a iGDP-generated database and interactive platform to track, synthesize and compare low-carbon development policies and actions across regions and cities in China. It identifies publicly available key policies and performance indicators on low-carbon development to promote best practices and learning by doing. Policy Mapping also issues a series of Policy Progress Fact Sheets and Regional Low-carbon Development Performance Reports.
2020 Green Development Think Tank Partnership Annual Conference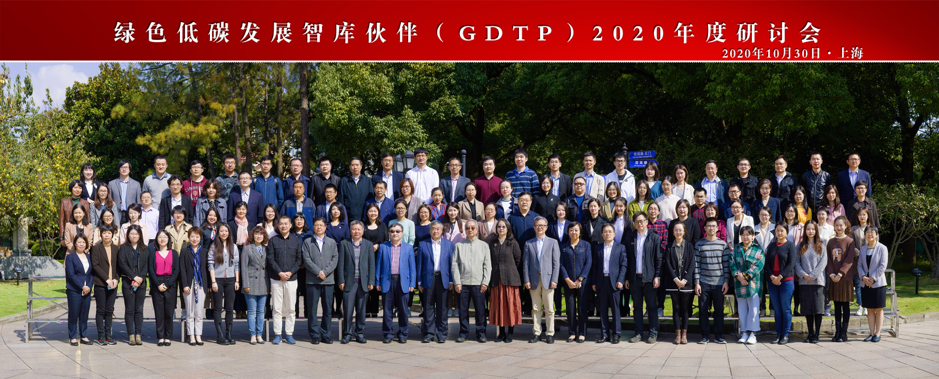 The 2020 Green Development Think Tank Partnership (GDTP) annual conference was held on October 30 in Shanghai. Jointly hosted by the Energy System Engineering Committee of China Energy Research Society, Fudan University's Energy Economics and Strategy Research Center, and iGDP, the event brought together nearly 150 guests from universities, research centers and academia throughout China, as well as nearly 10,000 online viewers. The conference came on the day after the conclusion of the fifth plenary session of the 19th Central Committee of the Communist Party of China, and a few weeks after China pledged to reach a carbon peak before 2030 and carbon neutrality by 2060. Participants took this opportunity to discuss carbon targets in the upcoming 14th Five-year Plan, how to achieve deep emission reductions in the different regions of China, as well as the policy means to promote China's transition onto a green and low-carbon economic development trajectory.
Our annual report provides an overview of all iGDP activities in the previous year. It can be downloaded here or in our publications page. The report details every major iGDP activity in the past year.
A quick snapshot: we hosted and participated in thirty-six conferences and meetings, produced thirty-two opinion pieces, and worked on over ten reports and policy recommendations.