iGDP develops and promotes solutions that are driving forward low-carbon economic growth
iGDP is a consultancy focusing on green and low-carbon development. iGDP works to strengthen the design and implementation of low-carbon solutions through interdisciplinary, systematic and empirical research. We work with a wide variety of partners and stakeholders to promote a zero-emissions future.
Sign up here to receive iGDP's newsletters and publications
Together with Energy Innovation and the Institute of Finance and Sustainability, we recently helped put together a three-part report series on China's emission trading system (ETS). China's ETS is already the largest in the world, and will grow by more than half when additional sectors are added. The three reports describe measures to strengthen China's ETS, get the most out of its emissions-reduction capacity and economic benefits, and promote cooperation with the European Union.
The three reports can be found here. 
May 5, 2022
As the world's second most abundant greenhouse gas, methane has received high media and political attention in recent years. The latest report from the Intergovernmental Panel on Climate Change pointed out the significant role reducing methane emissions can play in lowering peak warming and reducing the likelihood of overshooting warming limits.
China, the largest methane emitter, has started ramping up its efforts to reduce methane emissions, but there is more that could be done. With bold thinking and higher ambition China can improve its reductions in the energy, waste and agriculture sectors.
(Read the full op-ed here)
Drawing on iGDP's in-house policy tracker and energy database, our energy modeling team develops analytical tools to identify the most economically efficient pathways for China's energy system transition. iGDP has also worked on the just transition away from coal in Shanxi's energy restructuring and energy financing.  
iGDP organizes international workshops on green finance, conducts analysis of China's consignment auctioning and the implications of carbon border adjustment mechanisms, tracks infrastructure investments to identify opportunities for green finance, and bridges the gap between low-carbon policy and green finance to facilitate the creative deployment of renewable energy.
iGDP tracks China's performance on its periodically updated NDCs, builds models of the country's national long term strategy, and provides information on China's climate actions through the Carbon Neutrality Tracker data platform. iGDP also pushes forward into new areas for climate action such as non-CO2 greenhouse gases, climate-safe cooling, and food system emissions.
iGDP evaluates the low-carbon performance of China's cities, tracks and maintains a database of low-carbon case studies, and performs research on China's peaking and net-zero efforts at the subnational level. With partner organizations, we organize workshops and training programs on low-carbon city planning.
iGDP has developed a variety of tools and platforms, web-based and on social media channels, to help keep the climate community up-to-date on China's climate actions and promote knowledge sharing. We also serve as the secretariat of China's Green Think Tank Development Partnership, a network of city and regional research institutes throughout China.
iGDP maintains two analytical tools to help researchers and policymakers better understand China's progress in low-carbon development.
China LOGIC is the "Low-carbon & Green Index for Cities". It provides a system to track progress, a database to evaluate performance, and an analytical tool to help cities identify improved solutions for low carbon and clean energy development, and early carbon peaking. 
China Carbon Neutrality Tracker is an online database and interactive platform that tracks China's carbon neutrality actions at the national, subnational and sectoral levels. Information can be searched and sorted by issuing institution, release date, sector and action type.  
2020 Green Development Think Tank Partnership Annual Conference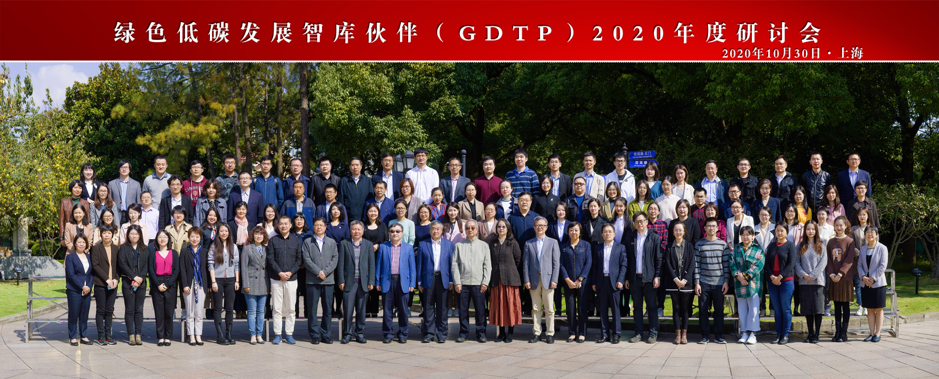 The 2020 Green Development Think Tank Partnership (GDTP) annual conference was held on October 30 in Shanghai. Jointly hosted by the Energy System Engineering Committee of China Energy Research Society, Fudan University's Energy Economics and Strategy Research Center, and iGDP, the event brought together nearly 150 guests from universities, research centers and academia throughout China, as well as nearly 10,000 online viewers. The conference came on the day after the conclusion of the fifth plenary session of the 19th Central Committee of the Communist Party of China, and a few weeks after China pledged to reach a carbon peak before 2030 and carbon neutrality by 2060. Participants took this opportunity to discuss carbon targets in the upcoming 14th Five-year Plan, how to achieve deep emission reductions in the different regions of China, as well as the policy means to promote China's transition onto a green and low-carbon economic development trajectory.