iGDP develops and promotes policy solutions that are driving forward China's low-carbon economic growth
iGDP is a non-profit policy and strategy consultancy focusing on green and low-carbon development. It works to strengthen China's low-carbon policy design and implementation through interdisciplinary, systematic and empirical policy research. We work with a wide variety of partners and stakeholders to promote a zero-emissions future.
Sign up here to receive iGDP's Newsletter and Publications
"The last three years have seen China's policymakers pay more attention to the country's worsening waste problem. In 2018, China's municipal solid waste (MSW) reached 22.8 million tonnes, a quantity that is expected to climb up to 409 million tonnes by 2030 as China continues to urbanize and grow economically. This swelling volume of garbage poses a threat to both the environment and the climate.

In 2017, China launched a pilot program of new waste sorting regulations in selected cities, and policymakers are now planning a national scale-up. In late April this year, the Chinese government approved changes to the Solid Waste Law, making waste sorting a core element of the revised law."
(Read the full op-ed in English here)
"The novel coronavirus pandemic has plunged the world economy into the worst recession since the 1930s. To recover from the crisis, countries around the world have invested massively to create jobs and stimulate growth. The funding, if properly used, could accelerate the global transition to a low-carbon economy, turn crisis into opportunity and contribute to a green recovery.
China is the first major country to have seen an economic rebound. As the world's second-largest economy and a key link in the global supply chain, it could become the leader of a green recovery. But for this, China needs clear policy goals and guidance for investment."
(Read the full op-ed in English here)
IGDP featured in Chinadialogue
A recent news report in Chinadialogue on a possible EU-China climate action partnership quotes iGDP:  
"Hu Min, executive director of the Innovative Green Development Program (iGDP) in Beijing, said it's misleading to focus solely on China's international commitments. Domestic sectoral policies are a better indicator of where the country is heading, she said. One key indicator will be China's 14th Five Year Plan, which is now in development. Hu expects it to be a much greener document than its predecessor, which could put China on a path to significantly overperforming its current NDC.
Hu also sees potential for EU–China cooperation on a green recovery. She pointed to a March appearance by Xi, which he used to highlight his concept of "ecological civilization". "It's a very strong political signal that green development is still the core even though we need to tackle economic recovery," Hu said. She added that China's leaders seem to have learned the lessons of 2008, when the country responded to the economic crisis with a stimulus programme that ended up locking in significant fossil fuel emissions. "It's clear that policymakers are trying to make it a smarter, greener more sustainable recovery through the concept of new infrastructure and new urbanisation," Hu said."
iGDP assists cities in identifying locally-suitable pathways to achieve the win-win of economic transition, curbing air pollution, and peak GHGs emissions. iGDP provides China's cities with the tools for cleaner climate, economic prosperity, and sustainable urbanization.
iGDP helps China's policymakers better understand the intersection between market mechanisms and low-carbon policy. Projects promote ambitious low-carbon goals and build an enabling environment for a race-to-the-top movement of green growth.
iGDP projects help China's policymakers and other stakeholders better understand long-term emissions scenarios and build confidence through promoting local champions in implementing climate goals.
iGDP is the secretariat of Green Think Tank Development Partnership, a network of provincial and city-level green development research institutions and experts.     
iGDP maintains two analytical tools to help researchers and policymakers better understand China's progress in low-carbon development.
China LOGIC is the "Low-carbon & Green Index for Cities". It provides a system to track progress, a database to evaluate performance, and an analytical tool to help cities identify improved solutions for low carbon and clean energy development, and early carbon peaking. LOGIC contains data from 115 cities, across 23 low-carbon and green indicators, and characterizing cities across ten economic and demographic dimensions. Data was collected and compared across two annual sets (2010 and 2015).
Policy Mapping is a iGDP-generated database and interactive platform to track, synthesize and compare low-carbon development policies and actions across regions and cities in China. By identifying publicly available key policies and performance indicators on low-carbon development, Policy Mapping will promote best practices and learning by doing. Policy Mapping will also issue a series of Policy Progress Fact Sheets and Regional Low-carbon Development Performance Reports regularly.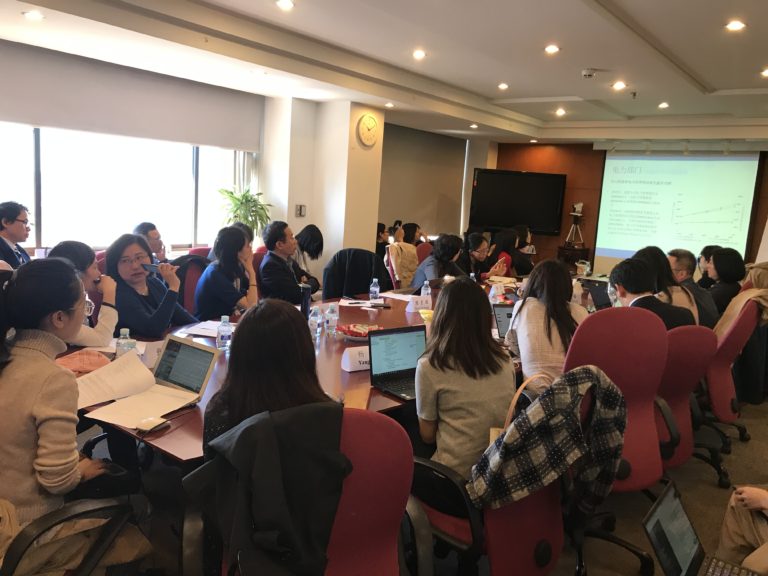 Workshop on Environmental Risk Quantitative Analysis and Methodology  
iGDP co-hosted this workshop to identify the data sources needed for environmental risk analysis in existing policy frameworks, strengthen the interconnection between climate change policies and qualitative environmental risk analysis, and enhance international exchange on quantitative environmental and climate risks analysis in the BRI.
Our annual report provides an overview of all iGDP activities in the previous year. It can be downloaded here or in our publications page. The report details every major iGDP activity in the past year.
A quick snapshot: we hosted and participated in thirty-six conferences and meetings, produced thirty-two opinion pieces, and worked on over ten reports and policy recommendations.