Sign up here to receive iGDP's newsletters and publications
China's Carbon Neutral Opportunity
This joint paper by Energy Innovation, innovative Green Development Program, and the Institute for Finance and Sustainability shows that China has the opportunity to, and should, strengthen its climate commitments by setting a target for peaking its carbon emissions before 2030.
The report shows how clean energy beats fossil fuel technologies on price and makes carbon neutrality an economic driver. By increasing the pace of its domestic clean energy transition, China can induce additional technological innovation to enhance the competitiveness of its clean technology firms, while at the same time improving its energy security and achieving earlier carbon peaking.
Beyond 2°C - The Long-Term Emission Reduction Actions of Global Cities in Response to Climate Change
This report reviews and summarizes the actions taken by non-Chinese cities to achieve medium- and long-term emission reduction targets or "zero-carbon" emissions, with a specific focus on climate change-related target setting, plan development 1, and policy measures. It focuses on policies and actions that have significant reference-value for China's cities with regard to long-term actions, and serves as a practical reference for policymakers and researchers interested in medium- and long-term deep emission reductions in cities around the world.
Towards Green and Low-Carbon Development in Chinese Cities
This report presents an indicator system called Low-Carbon and Green Index for Cities (LOGIC) that evaluates the performance of Chinese cities in terms of low-carbon development and identifies areas for improvement. This system issues a score ranging from 0 to 100, with a higher score indicating a better performance in lower carbon growth within a specified time period. LOGIC was applied to a sample of 115 Chinese cities representing a diverse range of population sizes, income levels, geographies and stages of economic and urban growth between 2010 and 2015. 
What to Expect in China's Second Nationally Determined Contribution
This report reviews the international and domestic sustainable development trends after the Paris Agreement, and discusses the implementation of China's NDC. Drawing on China's newly issued strategic plans and policies during the 13th Five-Year Plan period, it explores the climate policy options that may shape China's next NDC.
Introducing an Absolute Carbon Cap Into China's 14th Five-Year Plan
There is a need to set a strong economy-wide climate goal to decarbonize economic growth throughout China's provinces. Without such a goal, a change in investment behavior toward green growth projects is unlikely to happen. Even with existing robust environmental policies and clean energy development objectives, the climate impact of China's future economic growth remains unclear. With only a short time window left to meet global climate safety goals, introducing enhanced climate policies to limit China's carbon emissions growth is crucial to the world's sustainable development.
What to Expect in China's Second NDC - Report Summary
This report summary describes the main findings of our new report that reviews global and domestic trends in sustainable development, summarizes China's new strategic plans and policies in the 13th Five-Year Plan period, details China's progress in the implementation of its NDC, and describes potential updates for its next NDC.
2019-02-21
Data book
China Energy Data
The Energy Data publication series (annual editions from 2014 to the present year) compiles data across key sectors published by China's official statistics bureaus and industry associations, as well as by authoritative international energy agencies. The goal is to facilitate access by researchers and policymakers to comprehensive, multi-dimensional and long time-scale energy data that accurately captures China's energy profile. The English version of the 2018 Energy Data report contains 40 data energy indicator tables covering China's energy economy, energy production and consumption, energy efficiency and technology, energy prices, and energy-related pollutant emissions and carbon emissions.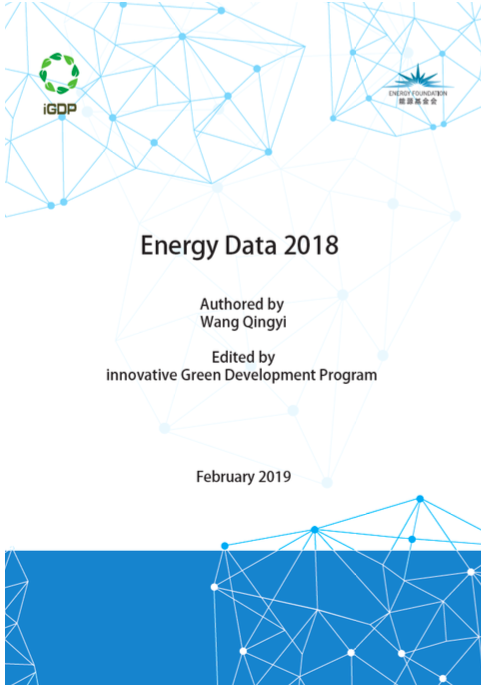 China Green Finance Pilots Anniversary Review
2019-01-22
Report
Green Finance
This report provides an overview of China's green finance low-carbon pilots on the occasion of the first anniversary of the program
. It summarizes the work plans, policies, and actions in each pilot zone, and offers suggestions for refinement of the pilot program going forward.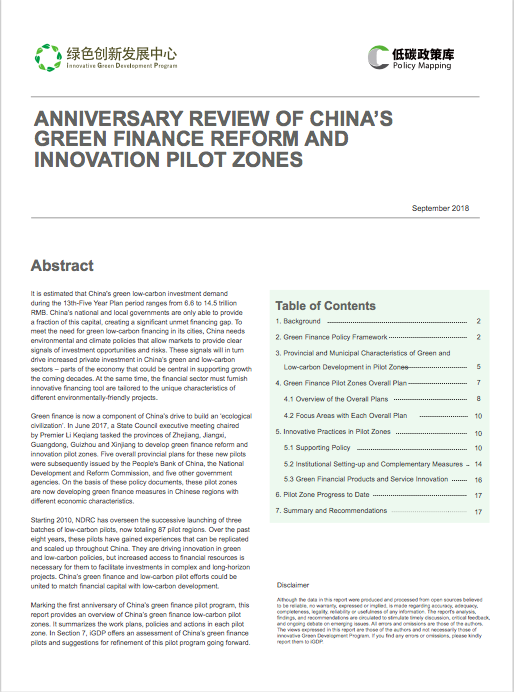 LOGIC: Low-carbon & Green Index for Cities
2018-09-13
Report
Low Carbon Cities
LOGIC provides a system to track progress, a database to evaluate performance, and an analytical tool to help cities identify improved solutions for low carbon and clean energy development, and early carbon peaking.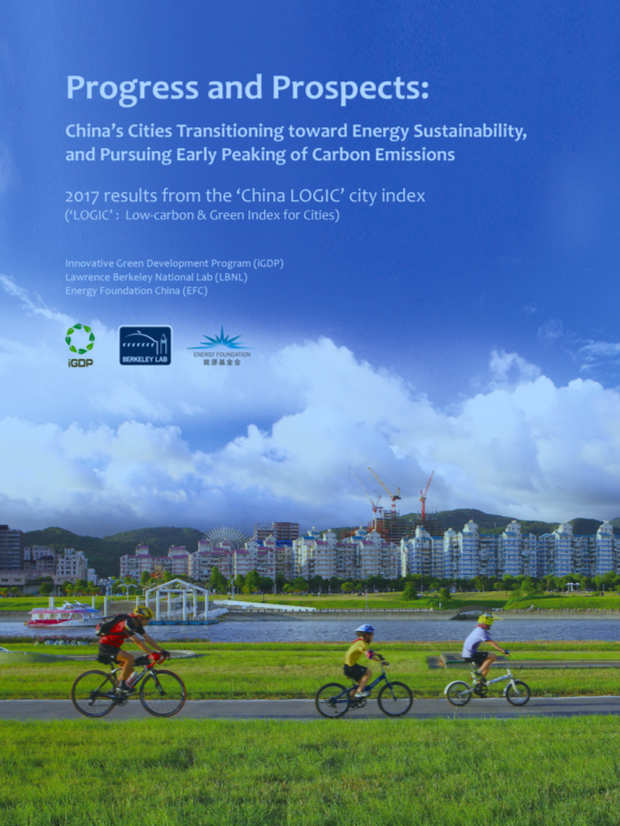 China's Low Carbon Cities: Carbon Peak Pledges and Progress on Green Transition
2018-06-27
Factsheet
Low Carbon Cities
Using a table format, this factsheet provides an overview of the policies and other actions that China's low carbon pilot cities have taken to date.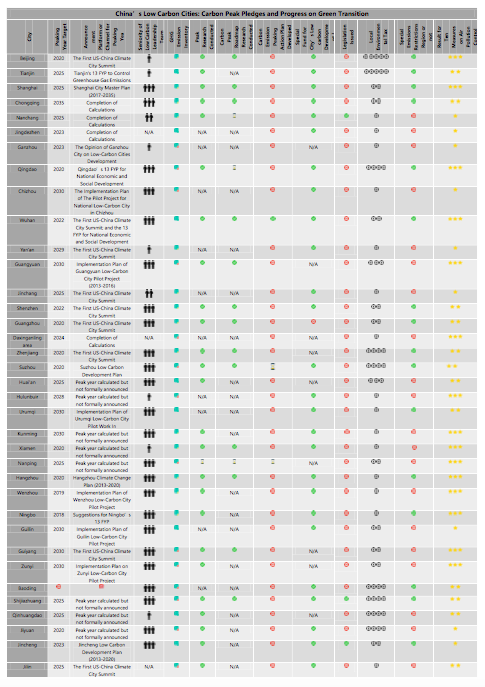 China's Low Carbon Cities' Participation in Other Pilot Programs
Using a table format, this fact sheet provides an overview of additional pilot programs in which China's low carbon city pilot cities participate.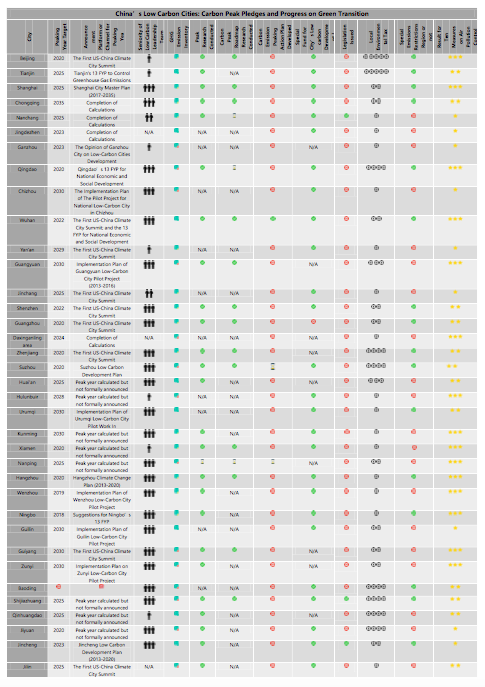 Wuhan's Green Transformation Path
This Chinese language infographic provides an overview of the key sectoral low carbon policies in the city of Wuhan.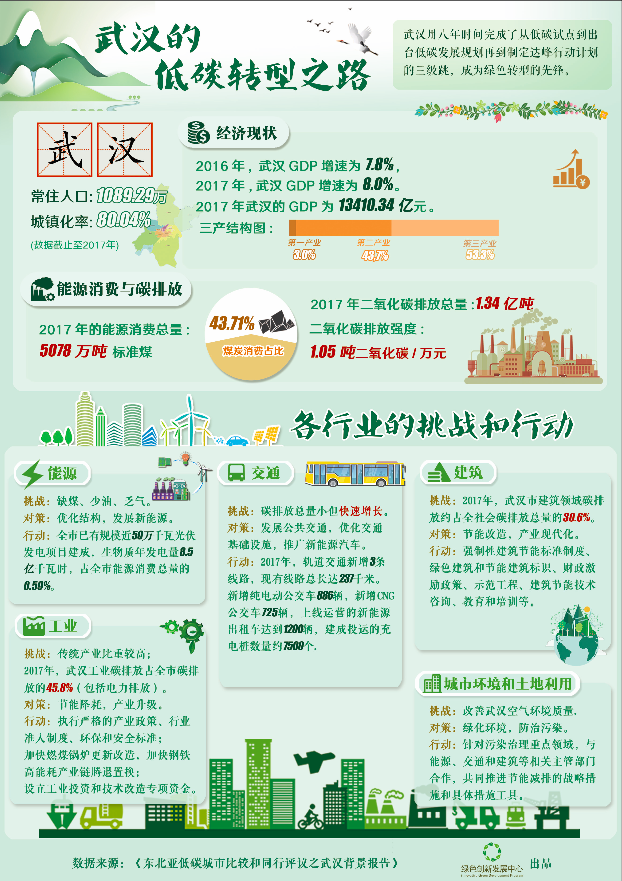 Wuhan's Green and Low Carbon Development Milestones
This Chinese language infographic highlights the milestones in Wuhan's low carbon policymaking.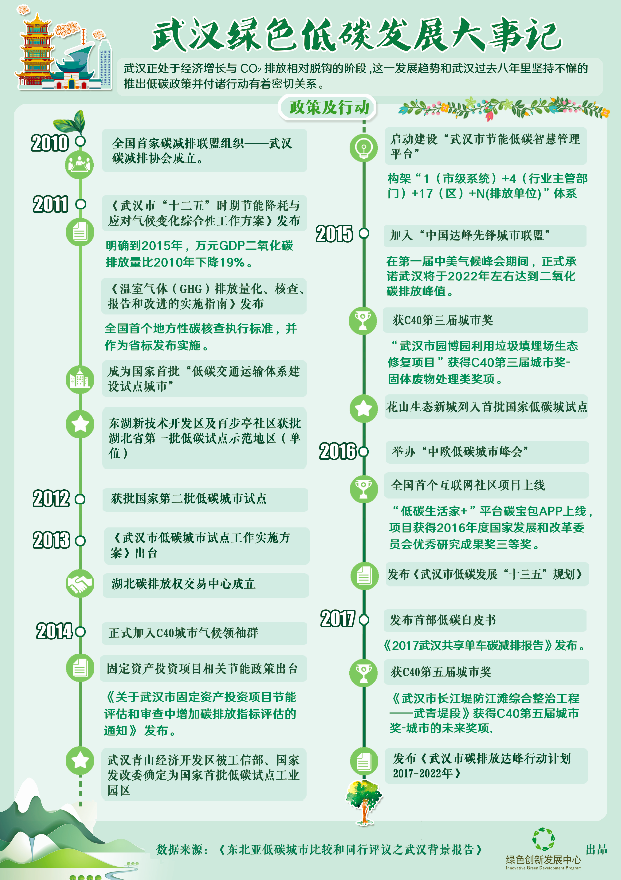 Wuhan Low Carbon Development Strategy and Policy Practices Background Report
This background report details the low carbon policy efforts of the city of Wuhan.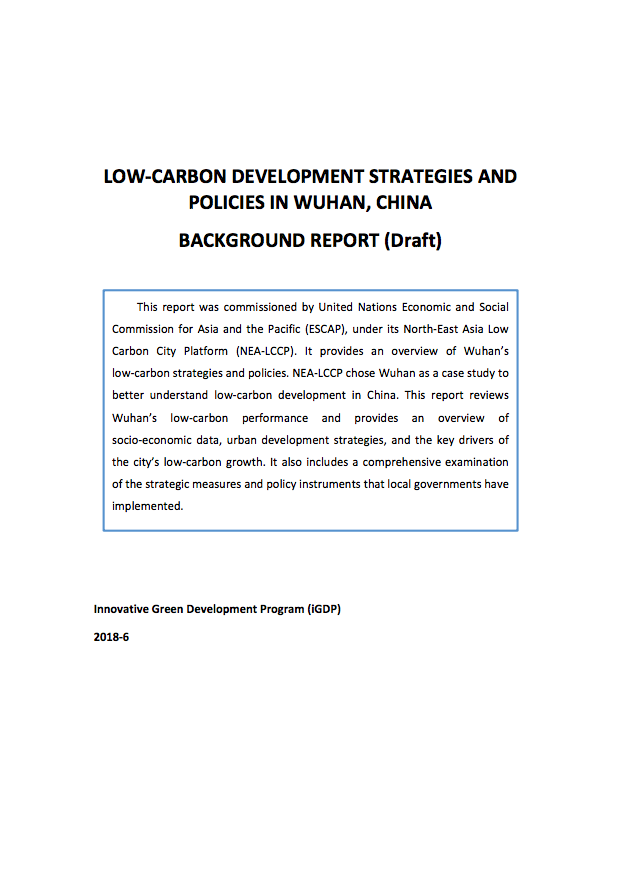 An Integrated Strategy to Assist China's Cities in Achieving an Early Carbon Emissions Peak
This paper offers a set of enhanced policies and practices to help China's cities transition toward a deep de-carbonization development path, sustaining economic growth with lower emissions, better air quality, and more livable communities.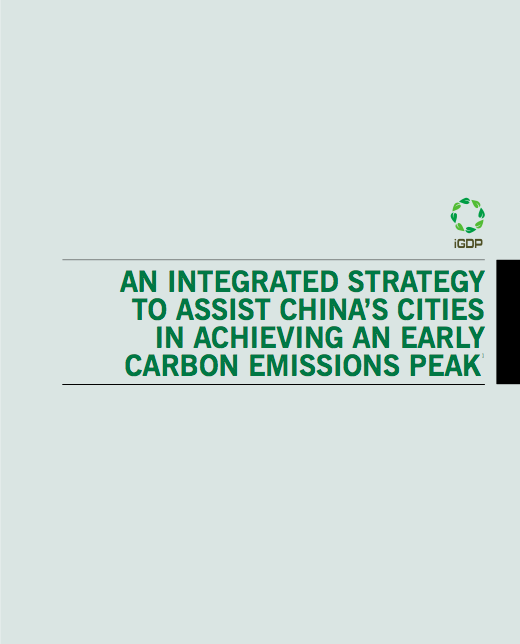 Recommedations on Principles and Objective-Setting for Low-Carbon Pilots
This paper offers a set of recommendations to China's policymakers on how to think about and set objectives in low-carbon pilots.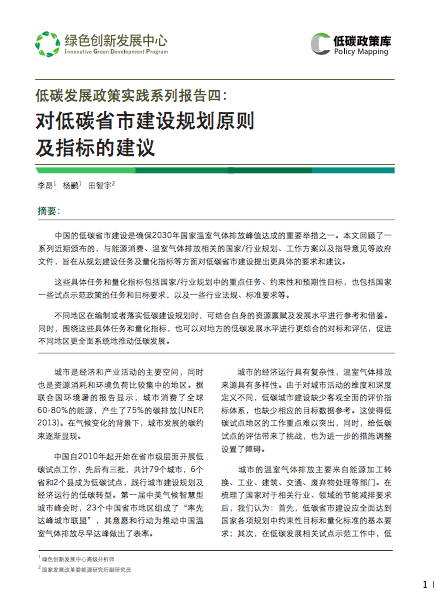 iGDP 2016-2017 Annual Report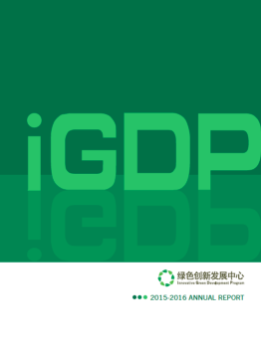 Upgrading the Power Dispatch Mechanism
This paper, prepared in collaboration with the Regulatory Assistance Project, provides and assessment of China's power dispatch mechanism and recommendations for its improvement.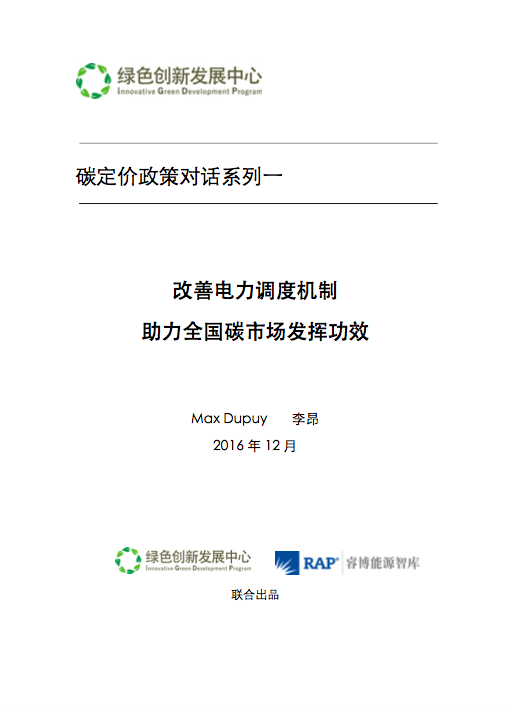 Alliance of Peaking Pioneer Cities Action Fact Sheet
This fact sheet provides key information about China's Alliance of Peaking Pioneer Cities – a collection of cities that is striving to achieve peak carbon emissions earlier than the national target year.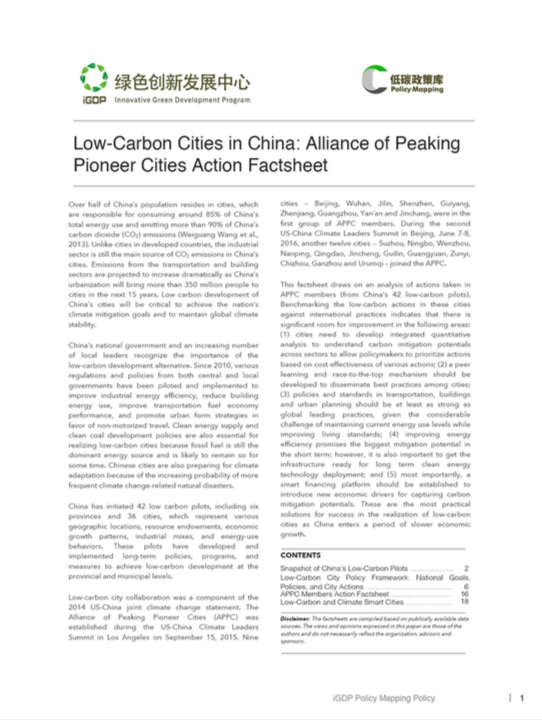 Establishing an Environmental Tax
This paper explores the key considerations in establishing an environmental tax in China.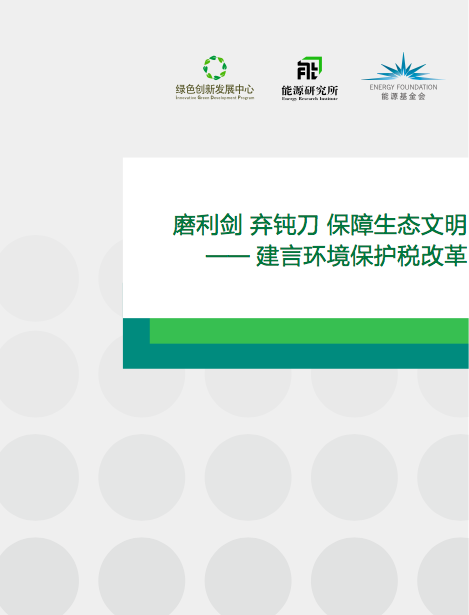 Low Carbon Cities in China National Policies and City Action Factsheet
This factsheet provides an analytical review of the actions taken in 10 of the 42 pilots in China's first batch of low low carbon pilots.