Sign up here to receive iGDP's newsletters and publications
Green and Low Carbon Financing - Practices and Exploration in Chinese Cities
This Chinese language report offers a comprehensive review the current status and ongoing challenges in investment and financing for green and low-carbon development in China's cities. It includes discussions of green and low-carbon actions, investment needs, financing tools, and presents case studies that illustrate the application of green and low-carbon investment and financing.
China's Emission Trading System Report Series
Together with Energy Innovation and the Institute of Finance and Sustainability, we recently helped put together a three-part report series on China's emission trading system (ETS). China's ETS is already the largest in the world, and will grow by more than half when additional sectors are added. The three reports describe measures to strengthen China's ETS, get the most out of its emissions-reduction capacity and economic benefits, and promote cooperation with the European Union. 
Leveraging Science Technology and Innovation for Low Carbon and Resilient Cities
Co-authored by ESCAP, ICLEI and iGDP, this report promotes the integrated development of cities around the Northeast Asia region. In addition to developing smarter urban planning, transport and awareness raising of climate actions through the adoption of modern information technology, it also looks at how cities are integrating micro-power sources such as rooftop solar and reducing their energy and water consumption through energy efficiency and water reuse projects, while delivering comfortable living in cities and reducing waste.
中国城市生活垃圾和市政污泥处理良好实践指南——温室气体减排视角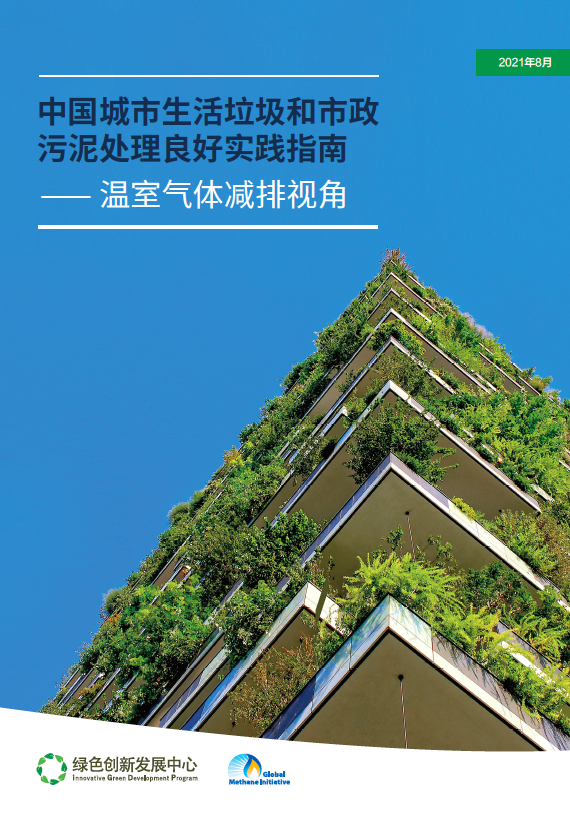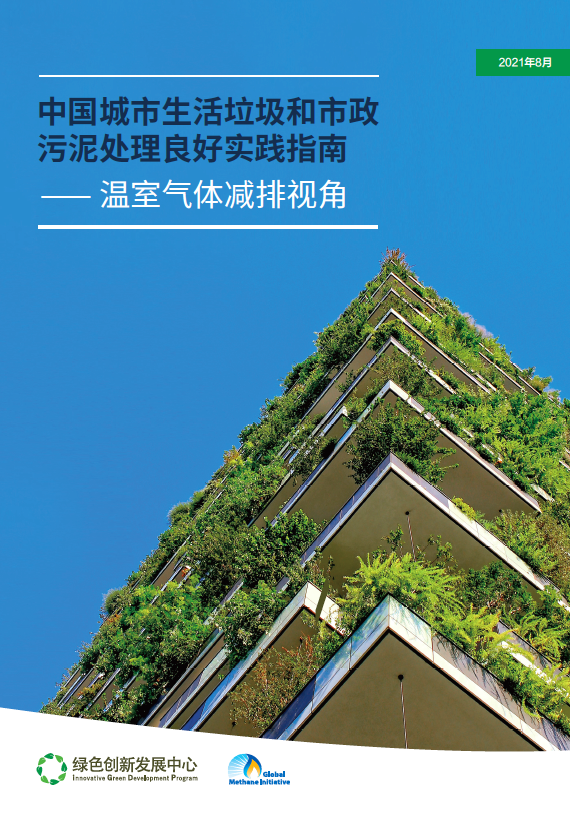 What to Expect in China's Second Nationally Determined Contribution
This report is an updated version of our 2019 report on China's NDC. It reviews new international and domestic sustainable development trends since the last report and discusses the implementation of China's first NDC. The second part of the report draws on newly issued strategic plans and policies during the 13th and 14th Five-Year plan periods to explore the climate policy options that may shape China's second NDC.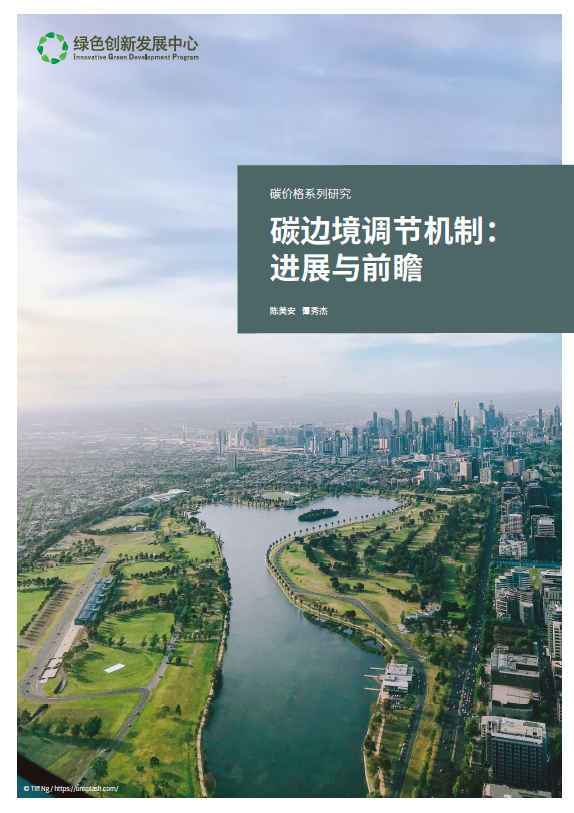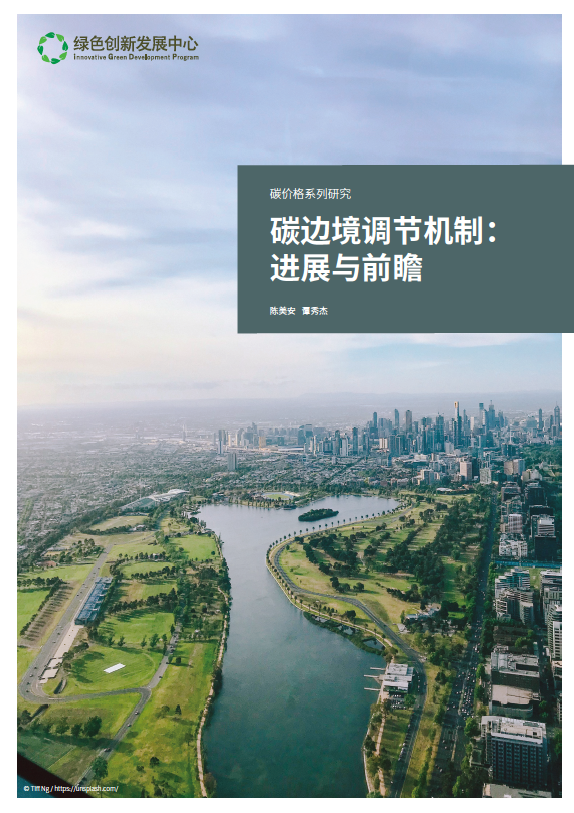 Comparative Study on Low Carbon City Development in China, Japan, and the Republic of Korea

This joint paper by iGDP, Institute for Global Environmental Strategies (IGES) and Korea Environment Institute (KEI) analyses and compares the low carbon city policies and practices of China, Japan, and the Republic of Korea, with the goal of identifying sector-specific and
city-specific good practices that may be instructive to researchers and
policymakers in the wider NEA region. It examines key national-level carbon
mitigation policies and sector-specific actions, reviews both top-down and
bottom-up low carbon city policy-design and implementation mechanisms and
describes fifteen case studies on greenhouse gas (GHG) emission reductions.
The study is part of UNESCAP's North-East Asia Low Carbon City Platform (NEA-LCCP) programme under the North-East Asian Subregional Programme for Environmental Cooperation (NEASPEC) and will be used in NEA-LCCP information-sharing activities and to
promote regional cooperation on low carbon development and climate action.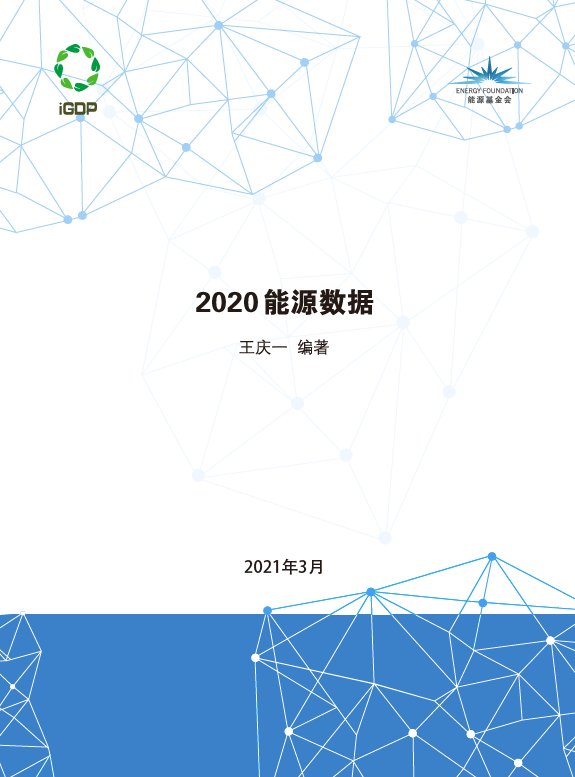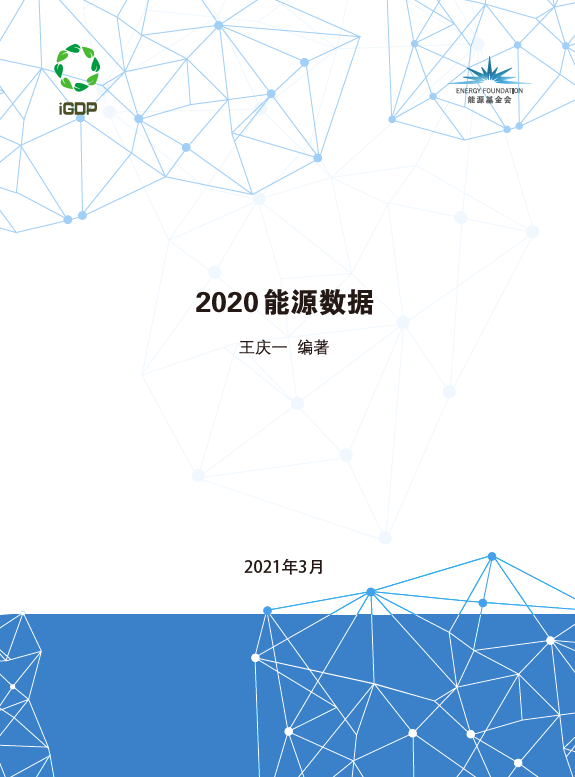 China's Carbon Neutral Opportunity
This joint paper by Energy Innovation, innovative Green Development Program, and the Institute for Finance and Sustainability shows that China has the opportunity to, and should, strengthen its climate commitments by setting a target for peaking its carbon emissions before 2030.
The report shows how clean energy beats fossil fuel technologies on price and makes carbon neutrality an economic driver. By increasing the pace of its domestic clean energy transition, China can induce additional technological innovation to enhance the competitiveness of its clean technology firms, while at the same time improving its energy security and achieving earlier carbon peaking.
Beyond 2°C - The Long-Term Emission Reduction Actions of Global Cities in Response to Climate Change
This report reviews and summarizes the actions taken by non-Chinese cities to achieve medium- and long-term emission reduction targets or "zero-carbon" emissions, with a specific focus on climate change-related target setting, plan development, and policy measures. It focuses on policies and actions that have significant reference-value for China's cities with regard to long-term actions, and provides insights to policymakers and researchers interested in medium- and long-term deep emission reductions in cities around the world.
Towards Green and Low-Carbon Development in Chinese Cities
2020-07-20
Research Publication
This report presents an indicator system called Low-Carbon and Green Index for Cities (LOGIC) that evaluates the performance of Chinese cities in terms of low-carbon development and identifies areas for improvement. This system issues a score ranging from 0 to 100, with a higher score indicating a better performance in lower carbon growth within a specified time period. LOGIC was applied to a sample of 115 Chinese cities representing a diverse range of population sizes, income levels, geographies and stages of economic and urban growth between 2010 and 2015.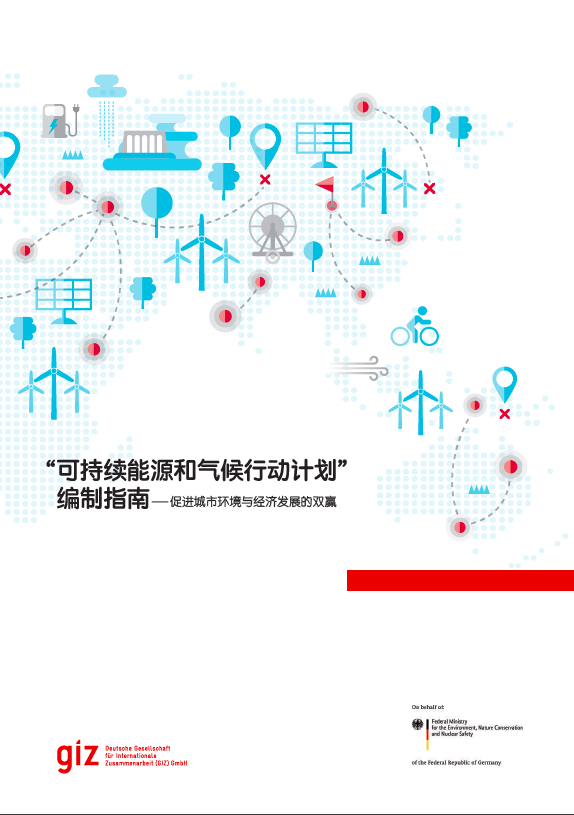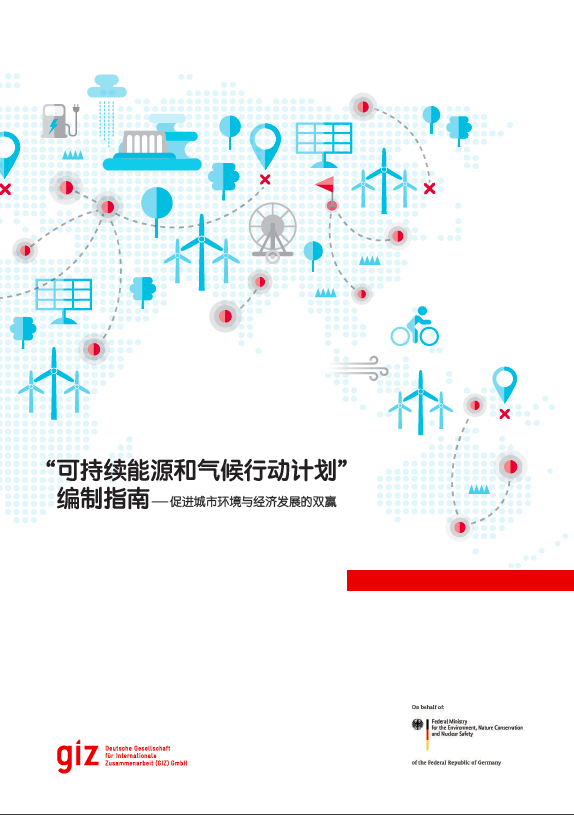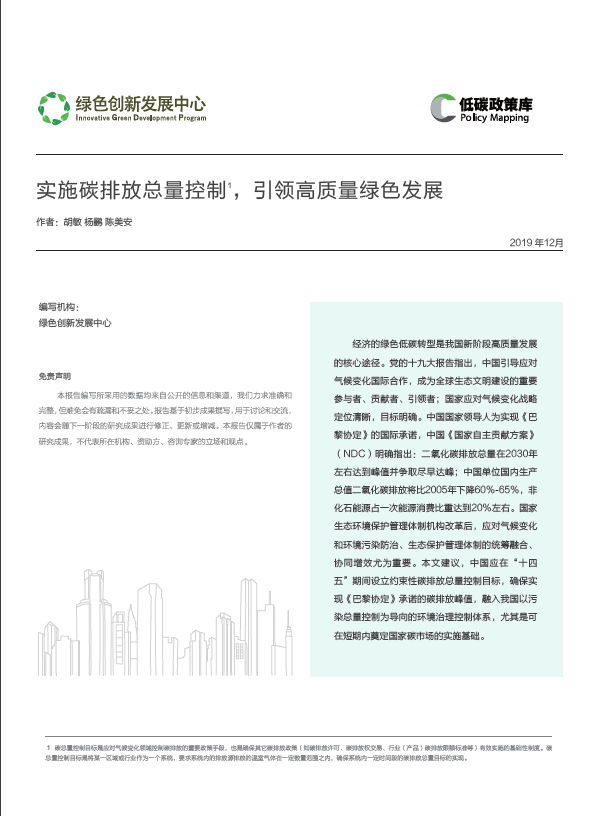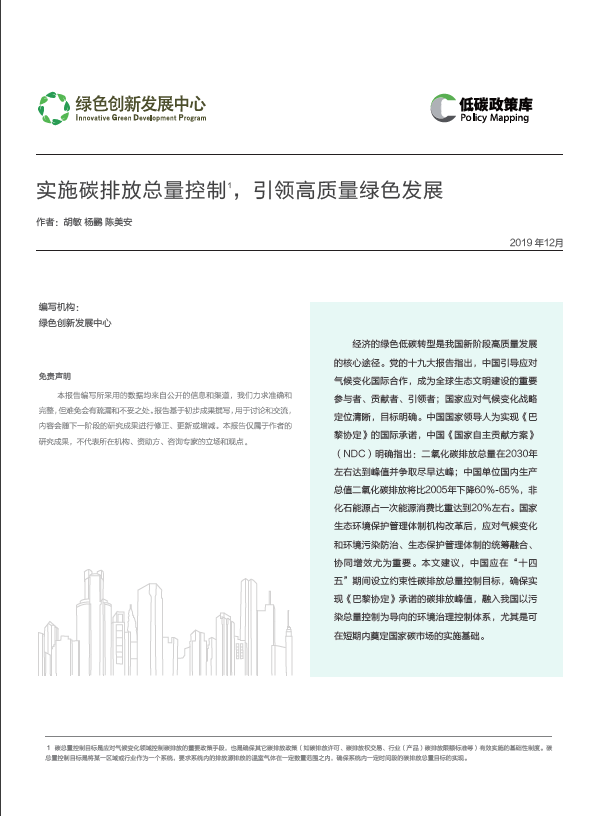 What to Expect in China's Second Nationally Determined Contribution
This report reviews the international and domestic sustainable development trends after the Paris Agreement, and discusses the implementation of China's NDC. Drawing on China's newly issued strategic plans and policies during the 13th Five-Year Plan period, it explores the climate policy options that may shape China's next NDC.
Introducing an Absolute Carbon Cap Into China's 14th Five-Year Plan
There is a need to set a strong economy-wide climate goal to decarbonize economic growth throughout China's provinces. Without such a goal, a change in investment behavior toward green growth projects is unlikely to happen. Even with existing robust environmental policies and clean energy development objectives, the climate impact of China's future economic growth remains unclear. With only a short time window left to meet global climate safety goals, introducing enhanced climate policies to limit China's carbon emissions growth is crucial to the world's sustainable development.
What to Expect in China's Second NDC - Report Summary
This report summary describes the main findings of our new report that reviews global and domestic trends in sustainable development, summarizes China's new strategic plans and policies in the 13th Five-Year Plan period, details China's progress in the implementation of its NDC, and describes potential updates for its next NDC.
武汉城市低碳发展战略与政策实践背景报告总结城市社会经济特征、城市发展战略和方向、低碳关键因素实际表现,以及全面阐述地方政府在全经济范围内以及重点领域内已经实施的战略和政策措施。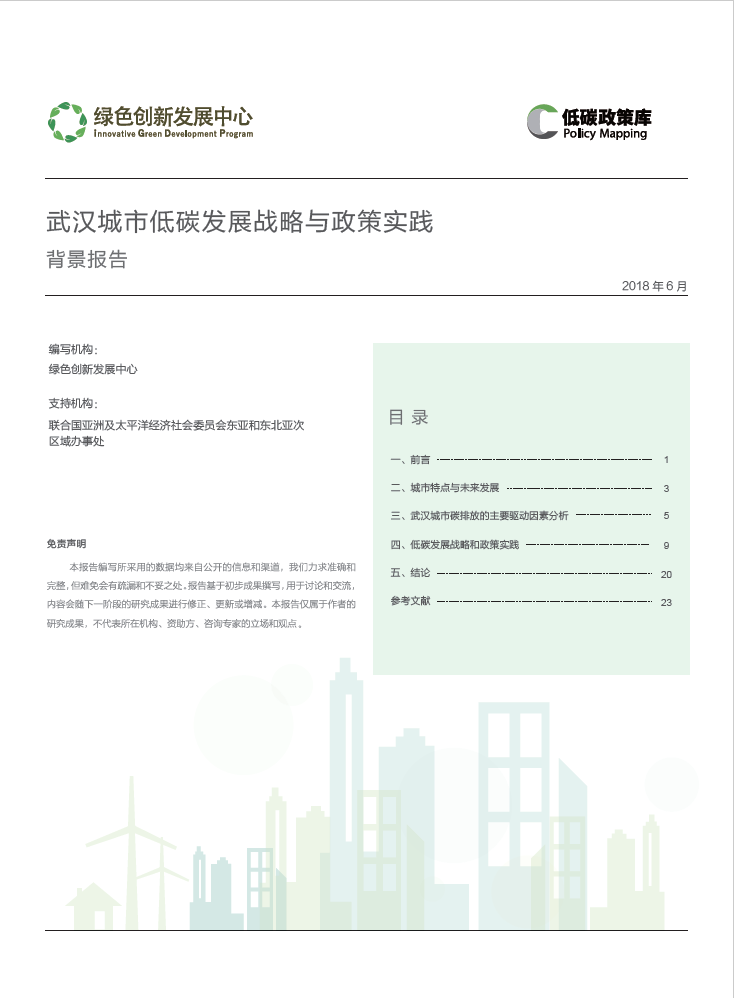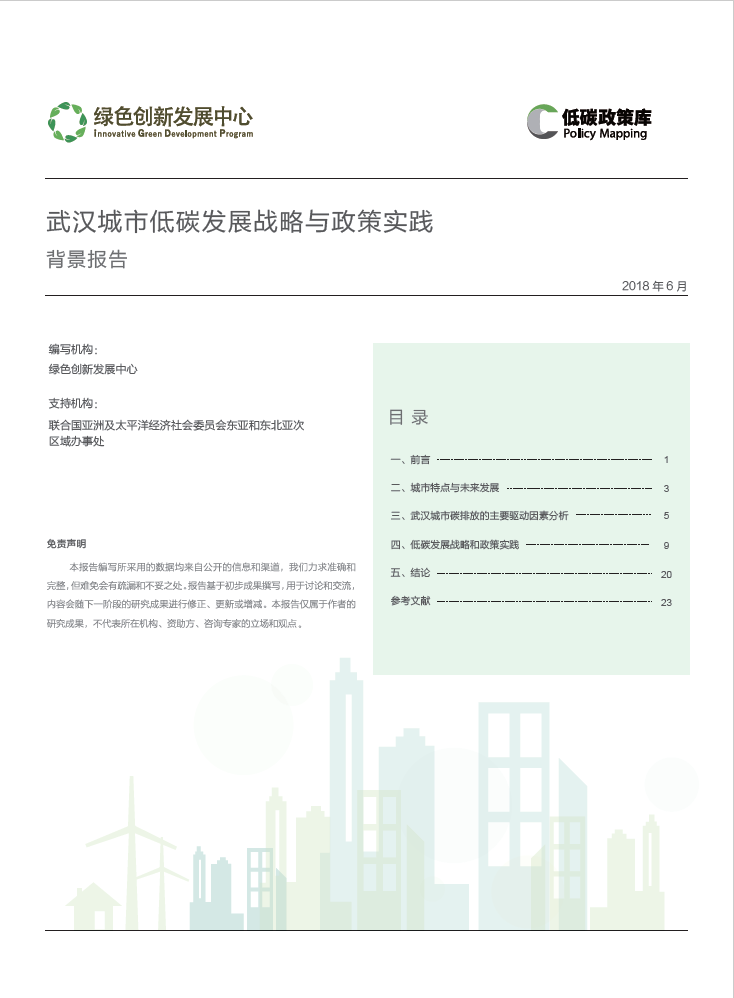 2019-02-21
Data book
China Energy Data
The Energy Data publication series (annual editions from 2014 to the present year) compiles data across key sectors published by China's official statistics bureaus and industry associations, as well as by authoritative international energy agencies. The goal is to facilitate access by researchers and policymakers to comprehensive, multi-dimensional and long time-scale energy data that accurately captures China's energy profile. The English version of the 2018 Energy Data report contains 40 data energy indicator tables covering China's energy economy, energy production and consumption, energy efficiency and technology, energy prices, and energy-related pollutant emissions and carbon emissions.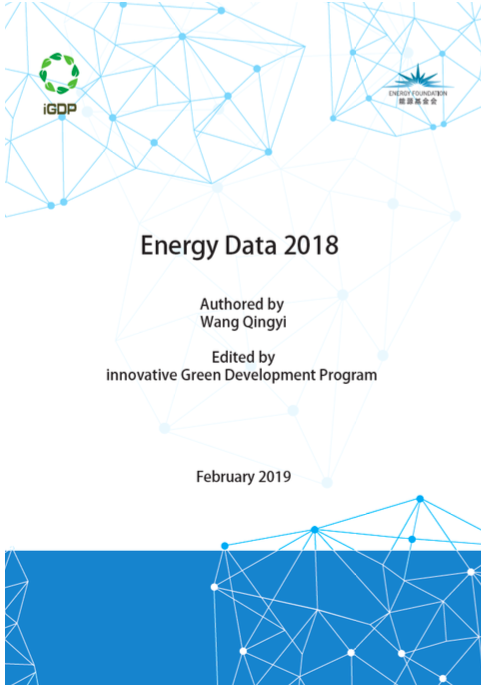 低碳发展和城市达峰中长期温室气体减排规划和行动方案
本指南旨在从科学性、系统性和可操作性三个方面提升低碳规划的质量,对要点、方法以及具体操作步骤提出了详细的建议和要求。供规划制定部门及技术支持团队参考使用。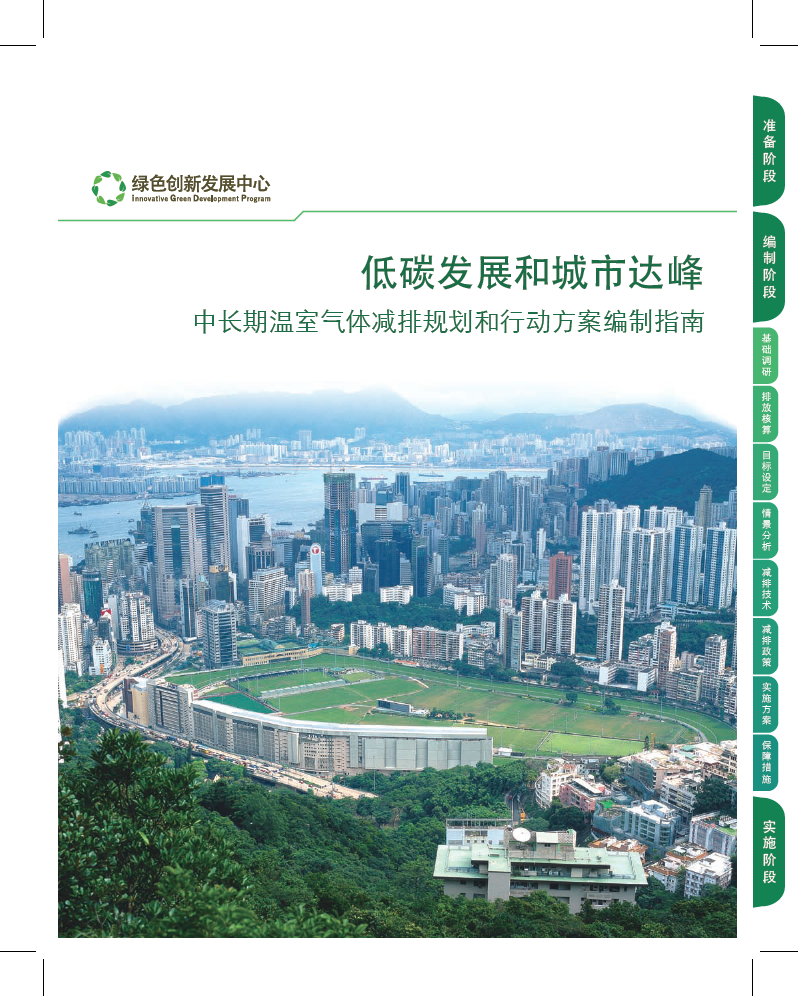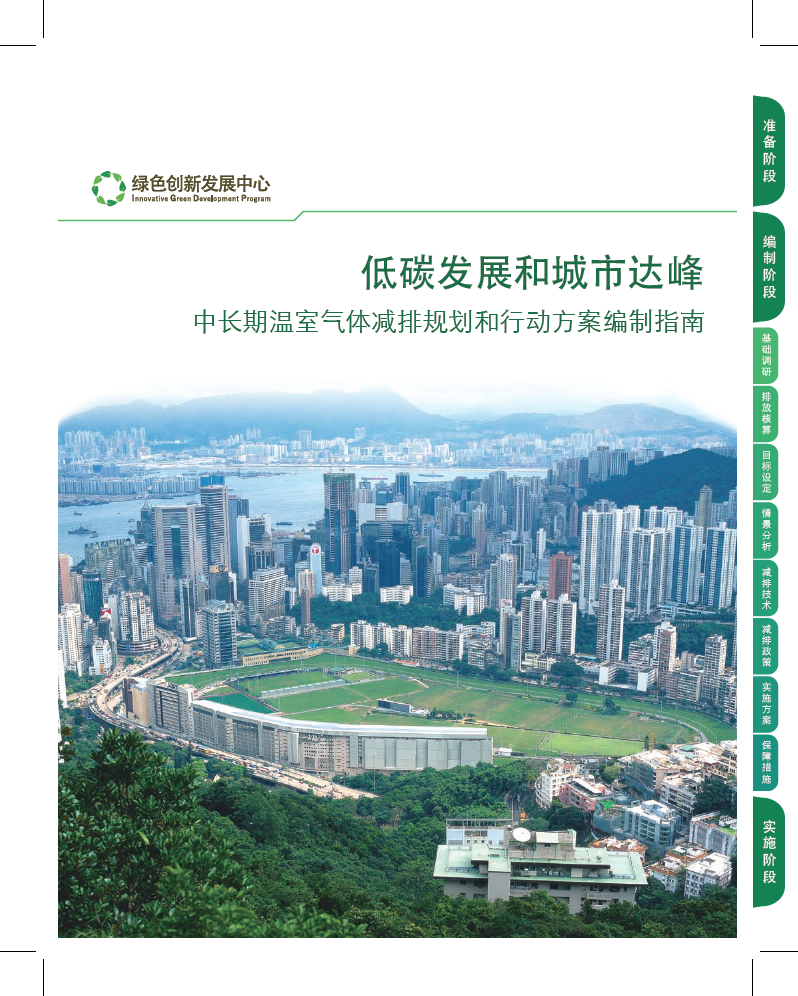 China Green Finance Pilots Anniversary Review
2019-01-22
Report
Green Finance
This report provides an overview of China's green finance low-carbon pilots on the occasion of the first anniversary of the program
. It summarizes the work plans, policies, and actions in each pilot zone, and offers suggestions for refinement of the pilot program going forward.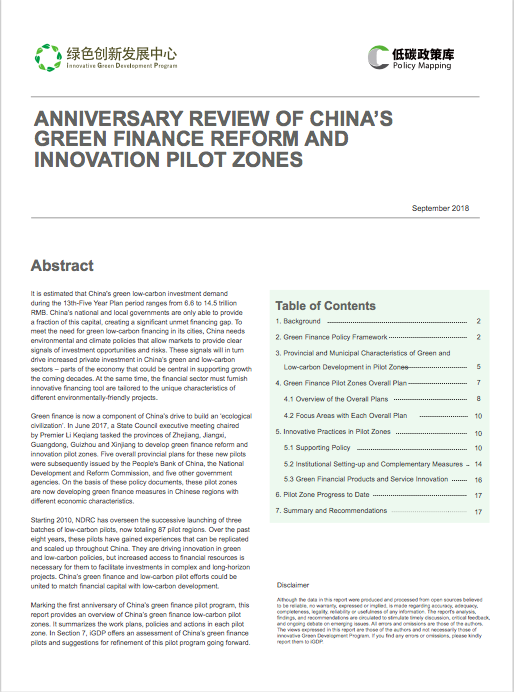 LOGIC: Low-carbon & Green Index for Cities
2018-09-13
Report
Low Carbon Cities
LOGIC provides a system to track progress, a database to evaluate performance, and an analytical tool to help cities identify improved solutions for low carbon and clean energy development, and early carbon peaking.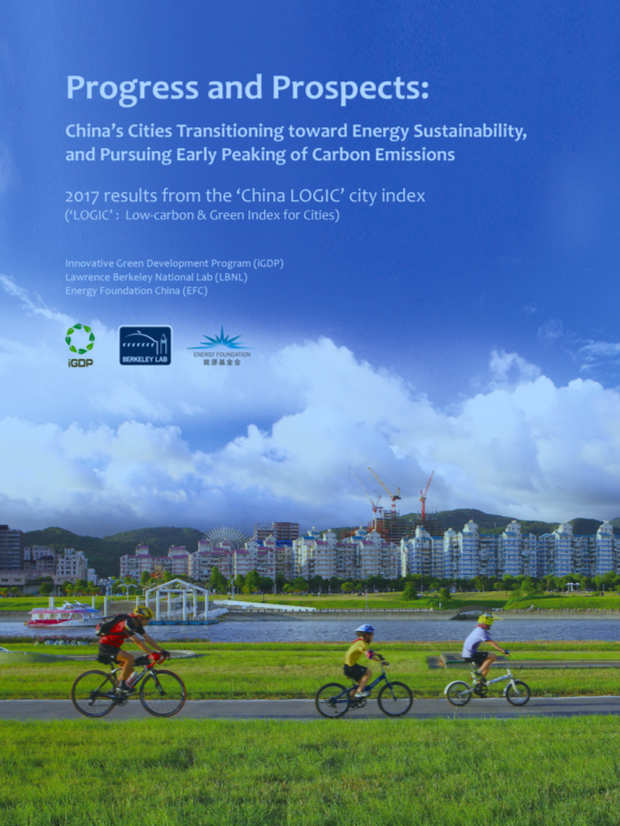 旨在了解中国公众对低碳概念的认知度,对公众对所在城市绿色低碳发展程度的满意度,对政府采取的低碳政策的支持度,以及公众在低碳行为上的参与度,力图展现中国公众低碳认知和行动的图景。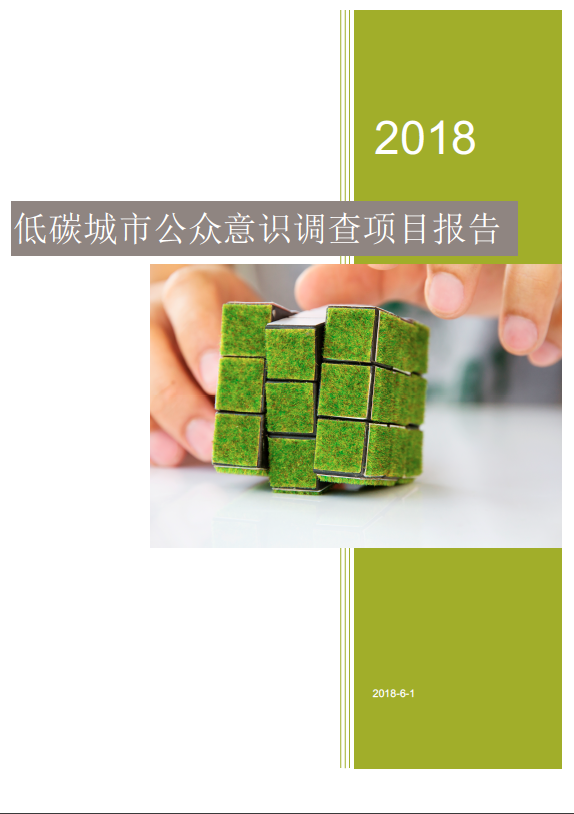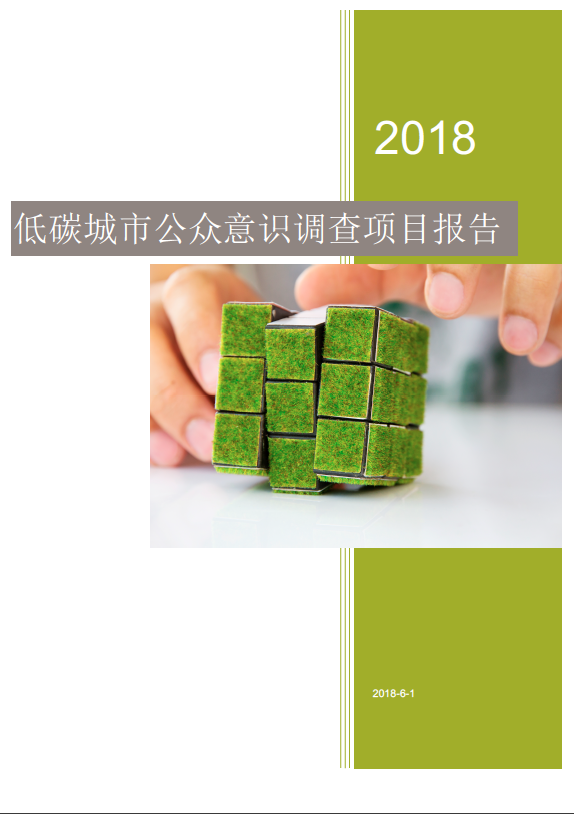 China's Low Carbon Cities: Carbon Peak Pledges and Progress on Green Transition
2018-06-27
Factsheet
Low Carbon Cities
Using a table format, this factsheet provides an overview of the policies and other actions that China's low carbon pilot cities have taken to date.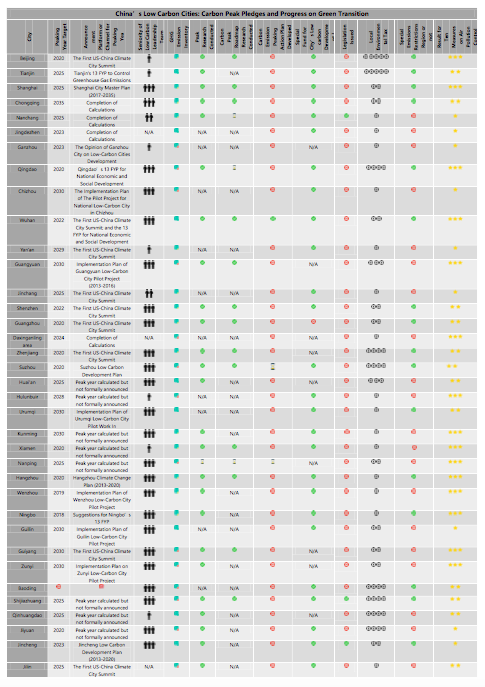 China's Low Carbon Cities' Participation in Other Pilot Programs
Using a table format, this fact sheet provides an overview of additional pilot programs in which China's low carbon city pilot cities participate.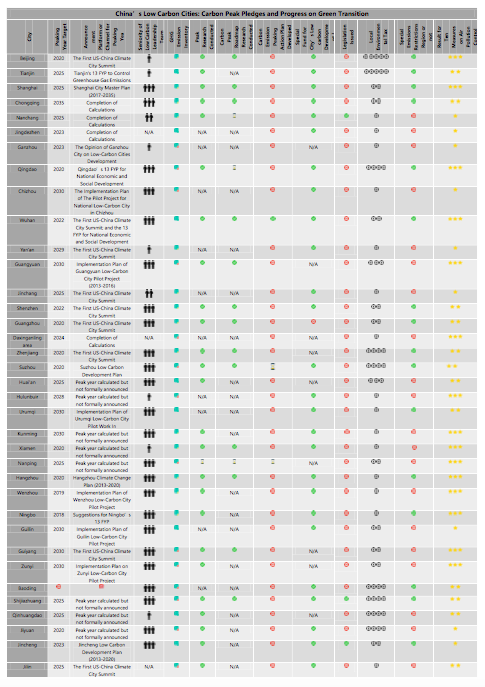 Wuhan's Green Transformation Path
This Chinese language infographic provides an overview of the key sectoral low carbon policies in the city of Wuhan.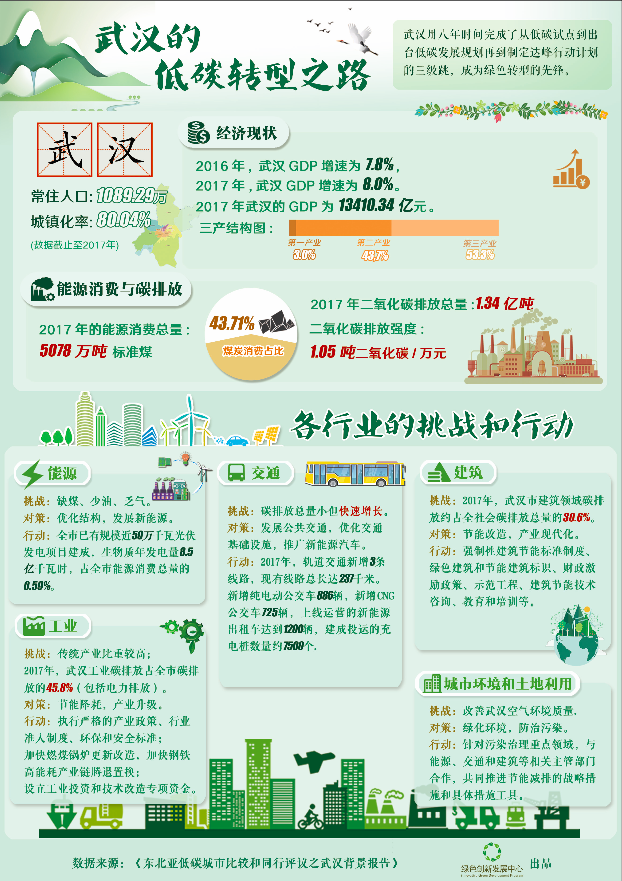 Wuhan's Green and Low Carbon Development Milestones
This Chinese language infographic highlights the milestones in Wuhan's low carbon policymaking.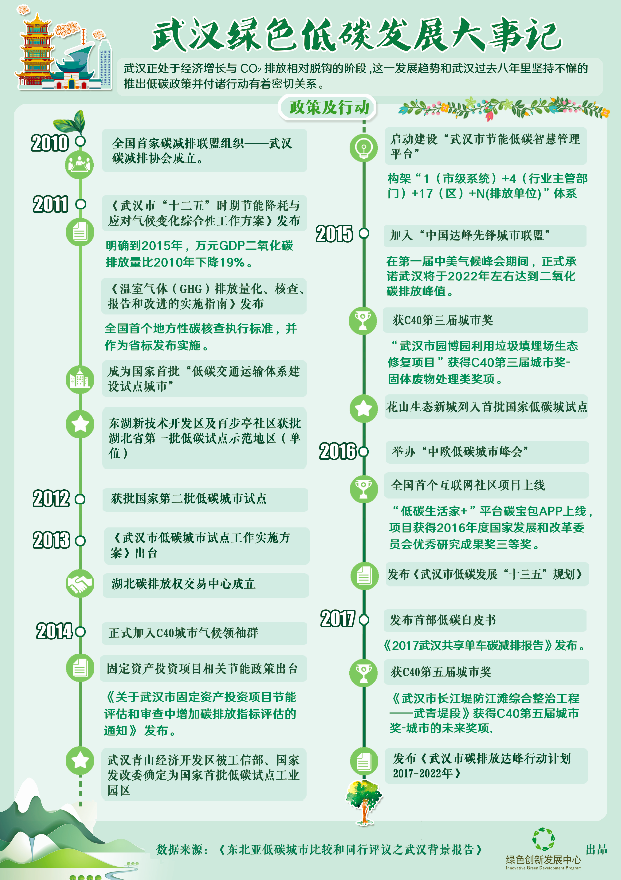 Wuhan Low Carbon Development Strategy and Policy Practices Background Report
This background report details the low carbon policy efforts of the city of Wuhan.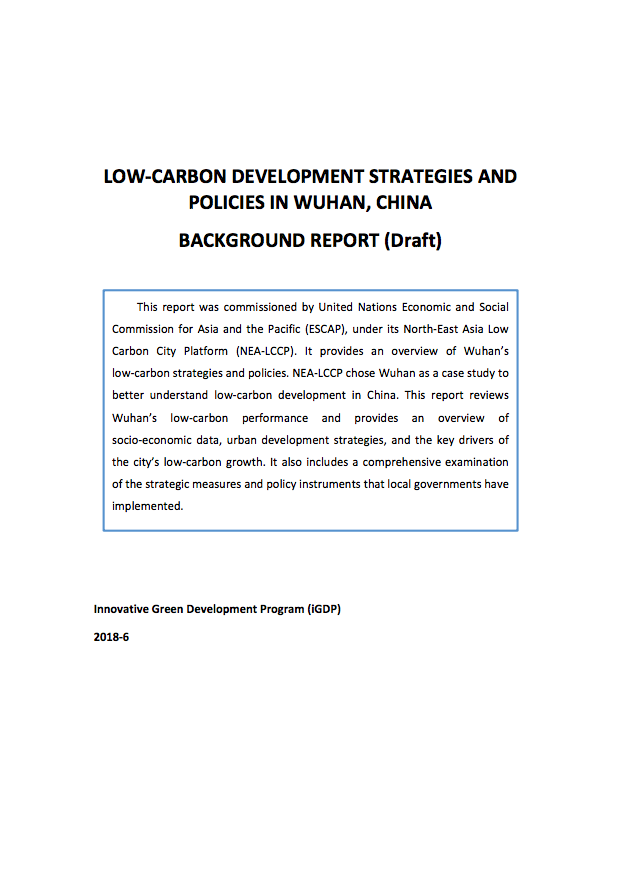 An Integrated Strategy to Assist China's Cities in Achieving an Early Carbon Emissions Peak
This paper offers a set of enhanced policies and practices to help China's cities transition toward a deep de-carbonization development path, sustaining economic growth with lower emissions, better air quality, and more livable communities.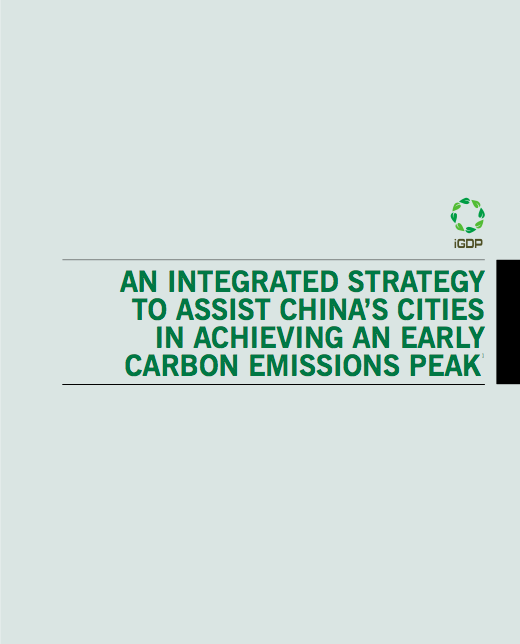 碳排放权交易是应对气候变化、控制碳排放的重要手段。国家发改委正式启动全国碳市场,电力行业成为首个入场行业。全国碳市场,它将如何影响我们的生活?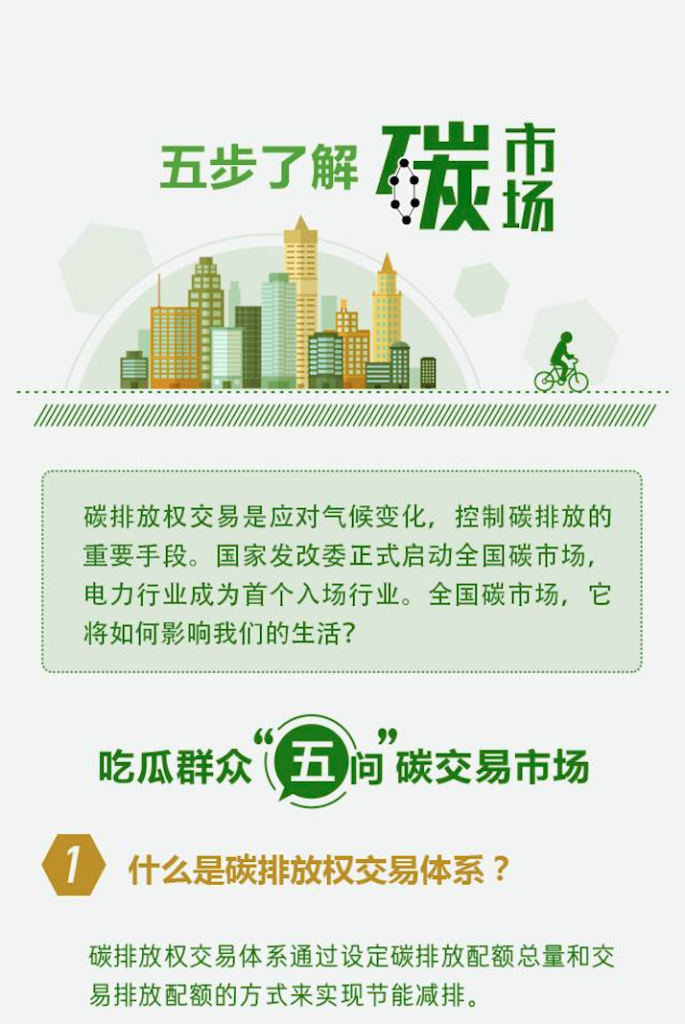 Recommendations on Principles and Objective-Setting for Low-Carbon Pilots
This paper offers a set of recommendations to China's policymakers on how to think about and set objectives in low-carbon pilots.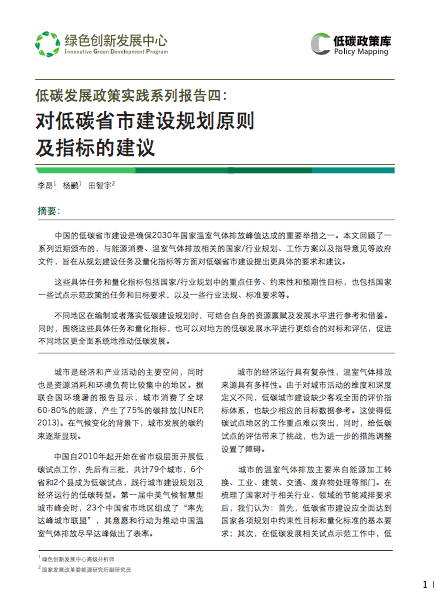 iGDP 2016-2017 Annual Report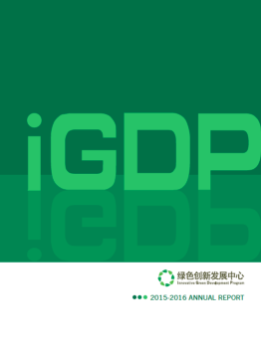 Upgrading the Power Dispatch Mechanism
This paper, prepared in collaboration with the Regulatory Assistance Project, provides and assessment of China's power dispatch mechanism and recommendations for its improvement.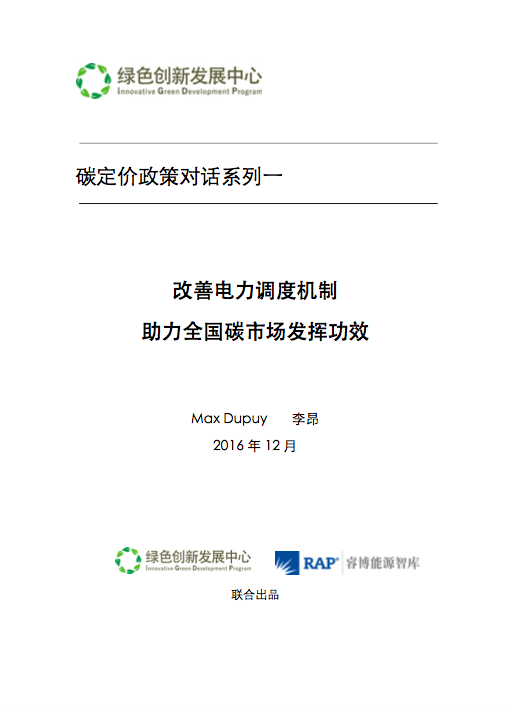 Alliance of Peaking Pioneer Cities Action Fact Sheet
This fact sheet provides key information about China's Alliance of Peaking Pioneer Cities – a collection of cities that is striving to achieve peak carbon emissions earlier than the national target year.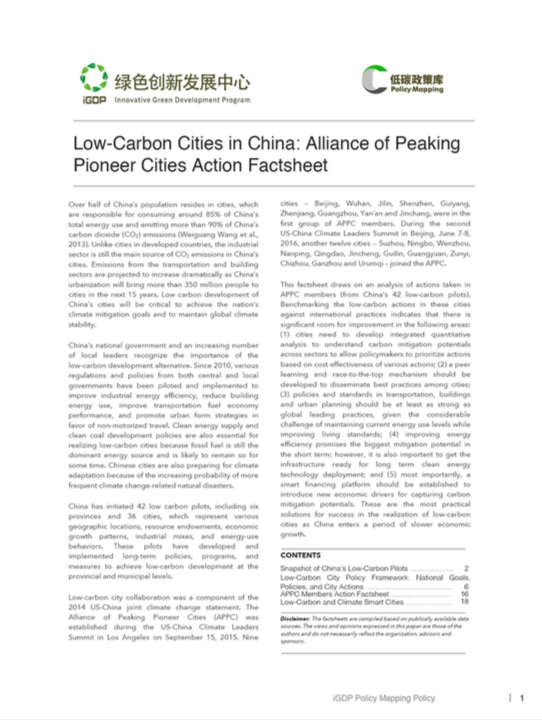 Establishing an Environmental Tax
This paper explores the key considerations in establishing an environmental tax in China.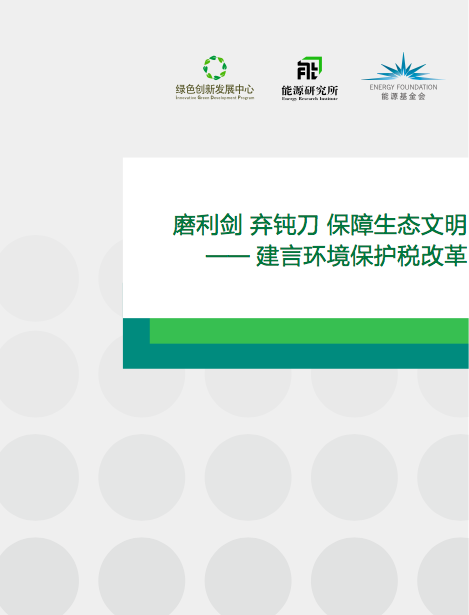 Low Carbon Cities in China National Policies and City Action Factsheet
This factsheet provides an analytical review of the actions taken in 10 of the 42 pilots in China's first batch of low low carbon pilots.